Traditional Christian Hymns
"O God, Our Help In Ages Past"
O GOD, OUR HELP IN AGES PAST
Author: Isaac Watts, 1674-1748
Composer: Attributed to William Croft, 1678-1727
Tune Name: "St. Anne"
Scripture Reference: Psalm 90
"Lord, Thou hast been our dwelling place in all generations. Before the mountains were brought forth, or ever Thou hadst formed the earth and the world, even from everlasting to everlasting. Thou art God." Psalm 90:1, 2
This hymn, considered to be one of the grandest in the whole realm of English hymnody, is a paraphrase of Psalm 90, a psalm of Moses. It is more than a metrical version of this Psalm; it is a grand commentary on the whole subject of time, which is the theme of the Psalm. It originally consisted of nine stanzas. In present usage, however, the hymn is usually limited to stanzas one, two, three, five and nine. In 1738 John Wesley in his hymnal, Psalms and Hymns, changed the first line of the text from "Our God" to "O God." The hymn was originally part of The Psalms of David Imitated in the Language of the New Testament, published by Watts in 1719. In this book he paraphrased in Christian verse the entire psalter with the exception of twelve Psalms which he felt were unsuited for Christian usage. This hymn undoubtedly ranks as one of the finest of all Watts's 600 or more hymns. It is the one hymn that is still sung at all festive occasions in England.
Isaac Watts, often called the father of English hymnody, was born on July 17, 1674, in Southampton, England. He was the eldest of nine children. His father was a learned deacon in a dissenting Congregational church, and at the time of his son's birth he was in prison for his nonconformist beliefs. As a boy young Isaac displayed literary genius, writing verses at a very early age. It is said that he had an annoying habit of rhyming even everyday conversation, and that one day when he was scolded by his irritated father for this practice, he cried out, "Oh, Father, do some pity take, and I will no more verses make."
One of Watts's early concerns was the low ebb of music in the churches. The singing consisted of ponderous hymn-psalms only. His father one day challenged him to write something better for the congregation, a challenge which he accepted. For the next two years he wrote a new hymn every Sunday. Because of this bold departure from the traditional Psalms as well as the use of his new "hymns of human composure," Watts was generally considered to be a radical churchman in his day.
Although Isaac Watts was frail in health during much of his life, he was a scholarly genius in many different fields. His writings include essays, discussions of psychology, three volumes of sermons, catechisms, twenty-nine treatises on theology, textbooks on logic, and a variety of other works. All of these works had a powerful influence upon the thinking of the late seventeenth and early eighteenth centuries.
Isaac Watts died in 1748 at the age of seventy-four. His monument was placed in Westminster Abbey, the highest honor that any Englishman can have.
Other hymns by Isaac Watts include "I Sing the Mighty Power of God" (No. 38), "Jesus Shall Reign" (No. 48), "When I Survey the Wondrous Cross" (No. 100), "Am I a Soldier of the Cross?" (101 More Hymn Stories. No. 6), and "Joy to the World!" (ibid., No. 52).
A great hymn text deserves majestic music. No one has ever disputed the musical worth of the tune for this hymn, "St. Anne," composed by William Croft in 1708. Croft was a well-trained church musician, having earned his Doctorate in Music at Oxford University. He was known as one of the finest English musicians of his time. He was the organist at the Church of St. Anne in Soho, London, during the reign of Queen Anne. This tune first appeared anonymously in the Supplement to the New Version of the Psalms, 6th edition in 1708. It was originally intended to be used with a version of Psalm 62. It was not until sometime later when set to Watts's text that the tune gained recognition. As evidence of the musical worth of this tune, master composers such as George F, Handel and J. S. Bach have borrowed it for their own works. For example, Handel used the tune in an anthem entitled "O Praise the Lord," while Bach made use of it in his great Fugue in E-Flat Major, often called "St. Anne's Fugue."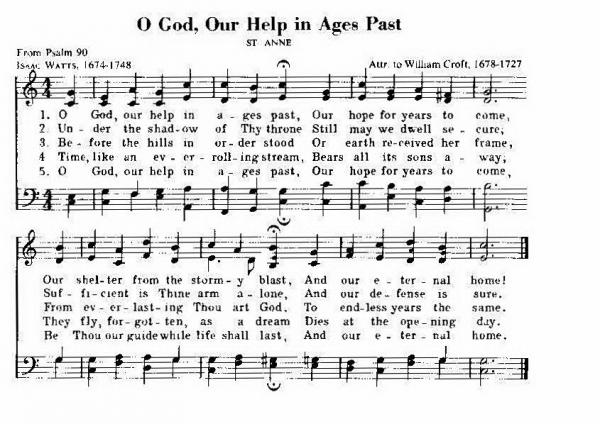 Taken from 101 Hymn Stories © Copyright 1982 by Kenneth W. Osbeck. Published by Kregel Publications, Grand Rapids, MI. Used by permission of the publisher. All rights reserved.
Return To Traditional Christian Hymns
Return to Praise and Worship Home Page