Traditional Christian Hymns
"Doxology"
DOXOLOGY
Author: Thomas Ken, 1637-1711
Composer: Louis Bourgeois, c. 1510-c. 1561
Tune Name: "0ld Hundredth"
Scripture Reference: Psalm 100
"I will praise Thee, 0 Lord my God, will all my heart: And I will glorify Thy name forevermore." Psalm 86:12
The four lines of the Doxology have been the most frequently sung words of any known song for more than three hundred years. Even today nearly every English-speaking Protestant congregation still unites at least once each Sunday in this noble ascription of praise. It has been said that the doxology has done more to teach the doctrine of the Trinity than all the theological books ever written. It has often been called "the Protestant Te Deum Laudamus."
The author of this text was a bold, outspoken seventeenth century Anglican Bishop named Thomas Ken. He was born at Little Berkhampstead, England, in 1637. Left an orphan in early childhood, Ken was educated at Winchester School where he was raised under the care of his older sister and her famous husband, Izaak Walton, distinguished in history as the most eminent angler of his time. Later Ken attended Oxford University and was ordained in 1662 to the ministry of the Church of England. His illustrious career in the ministry was stormy and colorful. Following ordination, he served as chaplain to the Bishop of Winchester. In 1679 he was sent to Holland, where he was the English chaplain at the royal court at the Hague. Ken, however, was so outspoken in denouncing the corrupt lives of those in authority in the Dutch capital that he was compelled to leave the following year. Upon his return to England Charles II appointed Ken as one of his own chaplains. Ken continued to reveal the same spirit of boldness in rebuking the moral sins of his dissolute English monarch. Despite these rebukes Charles always ad¬mired the courageous chaplain. He referred to him as "the good little man" and, when it was chapel time, he would usually say, "I must go in and hear Ken tell me my faults." Eventually, the King rewarded Thomas Ken by appointing him to the Bishopric of the Bath and Wells area.
Just twelve days after Ken was consecrated as a Bishop, his friend Charles 11 died. Soon Ken incurred the wrath of the new monarch, papist James II, by refusing to read the Royal Declaration of Indulgence, and with six other Anglican Church leaders he was imprisoned in the Tower of London. Although Ken was eventually acquitted, he was later removed from his bishopric in 1691 by the next ruler, William III. The remaining years of Ken's life were spent in quiet obscurity with a devoted friend, Lord Weymouth, at his home in Longleat, Wiltshire, where Ken died in 1711 at the age of seventy-four. The historian Macaulay gave a tribute to Bishop Ken when he stated that he came as near to the ideal of Christian perfection "as human weakness permits."
Bishop Ken wrote a number of hymns, and it was always his desire that Christians be allowed to express their praise to God without being limited only to Psalmody and the Bible canticles. He was one of the first English writers to produce hymns that were not merely versifications of the Psalms.
In 1673 Thomas Ken wrote a book entitled A Manual of Prayers for the Use of the Scholars of Winchester College. In one of the editions of this manual. Ken included three of his hymns that he wanted the students to sing each day as part of their devotions. These hymns were called "Morning Hymn," "Evening Hymn," and "Midnight Hymn." Each of these hymns closed with the familiar four lines we now know as the Doxology. The text of his "Morning Hymn" became especially popular. Two of the verses from this hymn are as follows:
Awake, my soul. and with the sun
Thy daily course of duty run,
Shake off dull sloth, and early rise.
To pay thy morning sacrifice.

Direct, control, suggest, this day,
All I design, or do, or say;
That all my powers, with all their might,
In Thy sole glory may unite..
It is said that after Bishop Ken had written this hymn, he sang it to his own accompaniment on the lute every morning as part of his private devotions.
The tune for Bishop Ken's text, "Old Hundredth," is said to be the most famous of all Christian hymn tunes. It was composed or adapted by Louis Bourgeois, born in Paris, France, c. 1510, In 1541 Bourgeois moved to Geneva, Switzerland, where he became an ardent follower of John Calvin and the Reformed Reformation Movement. Here he was given the responsibility to provide the tunes for the new metrical psalms which were being prepared at that time. Bourgeois was largely responsible for the Genevan Psalter, a monumental musical publication, completed and published in 1562. The tune was prepared originally for the French version of Psalm 134 and was included in the Anglo-Genevan Psalter of 1551. The first English words to which it was wedded were William Kethe's version of Psalm 100, "All People That on Earth Do Dwell;" accordingly, the tune became known as "The Hundredth." In 1696, when Tate and Brady published their New Version, the word ' 'Old'' was used to show that the tune was the one in use in the previous Psalter, edited by Sternhold and Hopkins.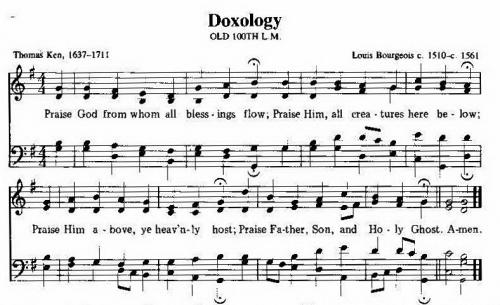 Taken from 101 Hymn Stories © Copyright 1982 by Kenneth W. Osbeck. Published by Kregel Publications, Grand Rapids, MI. Used by permission of the publisher. All rights reserved.
Return To Traditional Christian Hymns
Return to Praise and Worship Home Page