Christian Short Stories
A Journey Toward Forgiveness - Part 2
By Connie Lanyon-Roberts
"But I'm sure my husband and my children hate me!"
"I know that if you were my mom, I'd want to see you," Willard said soothingly.
Amanda and Willard's kindness tore at her heart. She didn't deserve to be treated so nicely. She felt she was the scum of the earth.
"Please don't beat yourself up," Willard said. "That's what the devil wants. Don't allow the devil to destroy you with guilt."
Amanda held Laura's hand for a long moment as the young woman wept."Listen, why don't I drive for awhile," Willard asked.
"Thanks, Willard. I'd like that."
Moments later the threesome were back on the road. It wasn't long before Laura fell asleep with her head resting on Amanda's shoulder. The following morning Laura awakened to find her head resting upon Amanda's lap.
"Well, good morning," Amanda said smiling.
"Morning? I slept through the whole night?" Laura asked puzzled.
"You sure did," Amanda responded. "Willard drove straight through and we're just leaving Albuquerque. "We'll be in Santa Fe in about an hour."
"Oh my! You didn't have to do that Willard. I should've helped you do some of the driving."
"Not a problem, my dear," Willard said. "Hey, as usual, I'm starving. There's a great restaurant close by. We'll have something to eat and then you can drive into Santa Fe. How's that?"
"Great. I've been craving huevos rancheros for such a long time," Laura replied.
Willard chuckled. "Well, I'll have you know that's one of their specialties."
Moments later Willard pulled into the restaurant. Laura was unable to eat much of her breakfast. Her stomach was in knots. She tried to hold a conversation with her new found friends, but her mind kept focusing on what was to come. After her friends finished their breakfast, Laura got behind the wheel and drove her companions into Santa Fe, the city she had left a couple of years before.
As they neared Santa Fe, Laura became more and more anxious. Amanda sensed the pain the young mother was experiencing.
"Laura, would you like for us to come with you?" Amanda asked.
Laura was amazed at Amanda's offer. "Oh, Amanda, would you? I don't think I can do on this on my own. I'm so scared," Laura said.
"We'd be more than happy to," Willard said.
"Do you mind if we pray for you?" asked Amanda.
"Do you think that would help?" Laura questioned.
"Prayer always helps, dear. God listens to His children," Amanda answered.
"There's a truck stop half way there. Pull in there and we can pray," Willard suggested.
It wasn't long before Laura saw the truck stop. She pulled in and drove to a quiet spot. She then held hands with Amanda and Willard. They prayed for the Lord to make a way for the young mother to be accepted back into her family. Laura felt at peace as her companions prayed over her. This was something she hadn't felt in years. After that it only took thirty minutes to arrive in the city.
Laura's heart began to pound in her chest. Her palms became clammy. She looked over at Amanda. The old woman's eyes were closed as if she was in prayer. Keep praying, Amanda, Laura thought. I need all the help I can get to get through this.
Finally, Laura pulled the car over and parked across the street from her home.
"We're here," Laura said. "I don't know if I can do this."
Amanda touched Laura's shoulder. "Yes, you can. We'll be right beside you."
Laura took a few long breaths and opened the car door. "Let's get it over with."
The old couple followed Laura to the front door. It took everything within her to knock on the door. Having Amanda and Willard beside her kept her from running back to the car and driving off. Within moments the door opened.
Duncan's jaw dropped open. "Laura?"
Laura felt her head spinning. She tried to speak but the words caught in her throat. She felt like she couldn't breathe! The next thing she knew she was falling. Strong arms caught her before she hit the ground. Then everything went black.
Laura opened her eyes slowly and looked into her husband's face. "Duncan?"
"Hi," Duncan said. "You really had me worried. Are you feeling better?"
"What happened?" Laura asked.
"You fainted. Can I get you anything?"
Laura sat up slowly and found she was lying on the couch. She forced herself to look at her husband. "I'm so sorry, Duncan. I'm so sorry. Please forgive me," Laura pleaded.
"It's all right. Honey, don't you realize this is what the children and I have been praying for?"
Laura was dumbfounded. "You were praying for me to come back?"
Duncan took Laura into his arms. "Yes! I prayed that God would restore our marriage and the only way to do that was to have you home. And God has answered our prayers!"
"You've forgiven me?" Laura asked, amazed she was in her husband's arms.
"Don't get me wrong. It's been a journey to get here and it wasn't easy. I was so angry and hurt when you left but with the help of our family and friends at church, I was able to get past the pain and I was able to forgive you."
"And the children?"
"It's amazing but they never stopped praying for you. They knew in their hearts you would come back to them someday," Duncan said.
"I feel I don't deserve your forgiveness," Laura said as she burst into tears.
"I've read in the bible that Jesus will forgive us if we forgive those who hurt us. So, the children and I chose to forgive you. Now you need to forgive yourself," David said softly.
"Where are Johnnie and Marie?" Laura asked as she looked around the room.
"They had a sleep over at their friends. I'm glad they're not here right now. There is so much we need to talk about."
"I know," Laura said. "Where are Amanda and Willard? Did they leave?"
"Who?"
"Amanda and Willard," Laura said.
"Who are they?" Duncan asked.
"The old couple that came to the door with me," Laura said.
"Laura, honey, there was no one at the door with you. You were by yourself," Duncan said with concern.
"How could you have not seen them? They were standing right beside me when you opened the door!" Laura said as she walked to the living room door, opened it and stepped outside. The old couple was nowhere to be seen.
"I picked them up on the outskirts of Bismarck. Their car broke down and they said they were on their way to Santa Fe. So I offered to bring them and they came here with me," Laura said firmly.
Laura brought her hand to her mouth to stifle a scream. "Did I imagine them? Am I going crazy?"
"No, of course not," Duncan said as he led her back inside and sat her on the couch. "Maybe, maybe they were angels."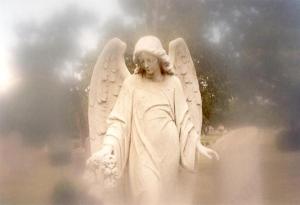 "Angels?" Laura asked incredulously. "You know there were times when I just wanted to turn around and go back. I was so scared, and they made me feel like I could do this. Do you think they were angels?"
"I wouldn't doubt it. You needed help and the Lord sent two angels to protect and support you."
I think you're right. They must have been angels. I couldn't have come home without them." Laura looked upward. "Thank you."
Duncan held Laura close to him. "Welcome home, sweetheart. I love you so much."
Laura touched Duncan's face gently. "I love you too. Thank you for giving me another chance."
(© 2009 Connie Lanyon-Roberts – written material may not be duplicated without permission.)
A Journey Toward Forgiveness - Part 1
Return To Christian Short Stories