Worship God Through Dance
Dancing is another form of worship
I've known about worshiping through dance for only a few years. I've seen some powerful and breathtaking performances, and I think it's beautiful to see someone dancing to the Lord.
Is worshiping in dance biblical? It is according to God's Word.
"Praise his name with dancing, accompanied by tambourine and harp." (Psalm 149:3 NLT)
"Praise him with the tambourine and dancing; praise him with strings and flutes!" (Psalm 150:4 NLT)
Since I'm not an expert in this area I've asked my friend Annette Shepherd to tell us about what it means to worship God through dance.
Annette's story
Annette began dancing at the age of 4 and continued her dancing career until she was 26. She studied ballet, jazz, tap and Modern Interpretative Dance. She danced in several shows and retired from that lifestyle when she got married and her children came on the scene. This is her testimony.
In 1968 Annette saw the movie "Fiddler on the Roof" 27 times and all within two weeks. She went to the three sessions on the same day only if she could control the headaches from crying. She couldn't understand why this movie had affected her so. At this stage Annette had not found the Lord and it wasn't until ten years later, in 1978, when she accepted Jesus as her Lord and Savior that she understood what this meant.
At the age of 40 Annette was asked to start up an inter-denominational Christian exercise group where unsaved people could come and socialize with Christians and exercise together to Christian music. At first Annette refused because she had lost her confidence considering her age, but after Annette prayed, God confirmed that it was what He wanted, so in 1981, with another teacher, this group turned from an exercise group into a dance group.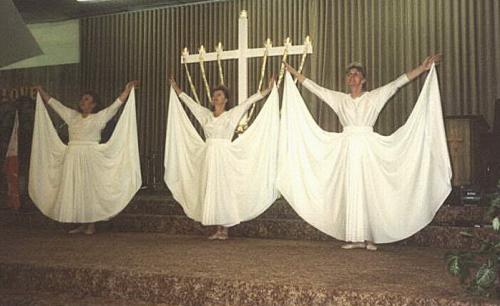 In 1983 Annette was asked to be the dance teacher on the Sunshine Coast, Australia. At that time she had to learn Israeli dancing for a three day festival which was held each year at the "Celebration Shalom." This was an outreach both to the Jewish and Christian community. Again Annette refused and took it to the Lord in prayer. He told her, "You are the forerunner of what is to come," and at that moment Annette realized even before she was saved that God had had a call on her life. She was to teach the love of the Father's heart through dance. He also gave her a heart for Israel and the Jewish people. Hence "The Rejoice Dance Company" was formed. Annette was the director and choreographer from 1981 to 2000 for a total of 19 years.
During that time Annette organized 3 Feast of Tabernacles festivals combining all the churches within the area. One Sunday morning service, Annette recalls, she had to choreograph communion for eighteen hundred people. She found that God was always faithful particularly when she had to decide which dances to perform at a church meeting. The answer always came at least two weeks before the meeting through the pastor's message or through the worship music from the worship team.
At one point God showed Annette that she and her group were not to perform in the same manner the world did but to perform with love for one another. When they danced they were to dance with the right attitude in their hearts. God told her if they danced His way He would do the blessing and the anointing would come. They had to examine their hearts constantly before they ministered to the people. There were times the women in the group had to forgive each other. They were God's servants and His instruments; therefore their attitudes had to be pure and holy.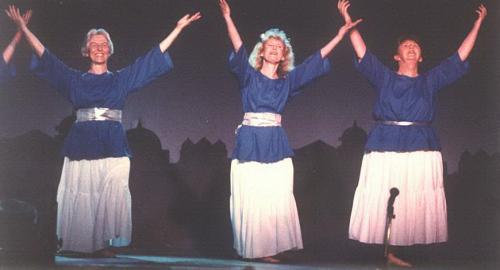 The "law of Christ" referred to in Galatians 6:2 is the law of love, Jesus' "New" commandment.
God opened many doors for this group of faithful women. Their husbands released them so they could minister overseas and around Australia. They ministered in churches and ran workshops teaching people the joy of worship, how to set their bodies free and to soar in the Spirit. They encouraged the people to move in a fully uninhibited manner and to be free like a child.
Annette indicated there have been several dance groups over the years who have asked her opinion regarding a particular dance they have choreographed. Her question to them has been, "if Jesus was sitting here amongst us, would you perform the dance before Him?" If they are too ashamed to do it before the Lord, "then don't do it," she advises. "Anything that doesn't bring honor and glory to Jesus and takes away from the anointing is of the flesh."
Dancing before the Lord
Dancing before the Lord is not totally about technique. It's about having the right attitude in your heart. It's also about telling a story. The music, words and dance must be united in harmony. Dancing for the Lord is a very unique ministry and the group or soloist must not have any distractions in what they wear such as their costumes, undergarments, hair, makeup, jewelry and even nail polish. Since this is such a visual ministry any distractions can take away from the message the dancers are presenting before the Lord. Color is also very important to the dance. Annette explained that God would always give her the colors to be used in the costumes, such as fabrics, ribbons, tabards and sashes.
"Then Miriam the prophet, Aaron's sister, took a tambourine and led all the women as they played their tambourines and danced." (Exodus 15:20 NTL)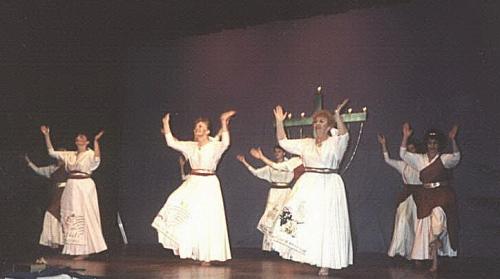 God has made us and we can move in harmony with His physical laws. "I love to dance because it's the next thing to being able to fly," Annette said. "He gives life, freedom, healing, release, joy, peace, resulting in an overflowing of praise and gratitude in His goodness and love. God, our heavenly Father is the author and creator of all things. As we yield our bodies and hearts to God who is love, we experience a 'flow', a grace in movement, a gracefulness in body, a graciousness in heart – God's love flowing through us, the body and its movement are the prime tools that work toward the awareness and the unity of self."
As the Psalmist expresses it so clearly in Psalm 133:1, "Behold, how good and how pleasant it is for brothers to dwell together in unity!" (NAS)
"For in Him we live and move and have our being,…" (Acts 17:28 NKJ)
The word "dancing" consists of basically three expressions which can remain separate or intertwine: interpretive, choreographed and spontaneous. Before coming to any hard and fast decisions regarding dancing we should examine what the Bible says about it. Of the 27 biblical references to dance, danced, dances or dancing, some 19 are positive in that they refer to expressions of either joy or worship; while only 6 are negative, referring to heathen or seductive dancing; and two references are neutral. Since creation men and women have found dance to be an emotional outlet. By the time Miriam the prophetess led all the women of Israel in spontaneous celebration of victory by the sea (Exodus 15) dancing was a well established practice among the ancient nations. Dancing was prevalent on sacred occasions. Valiant warriors were welcomed home by singers, dancers and tambourine fanfare, (Judges 11:34 and 1 Samuel 18:6) the most familiar biblical passage relating to the dance is that in (2 Samuel 6) describing King David, dancing and leaping before God and his people with all his might. Why is it we endorse it for David and reject it for ourselves?
"You have turned my mourning into joyful dancing. You have taken away my clothes of mourning and clothed me with joy," (Psalm 30:11 NLT)
Much of the music in the Church today, especially in Charismatic churches, has a definite Israeli flavor. Incorporating folk dance steps into the regular worship with those songs seems only natural. Jewish believers have no difficulty carrying off the long tradition of expressing joy in the dance. Those of us who have been adopted into Abraham's family through Jesus Christ can participate in the "Hora," a well-known Israeli dance. Hebrew folk dancing provides an excellent foundation for worship dancing. I know of several women who go to the Jewish centers in their respective cities who not only benefit from the dancing practice, which they in turn share with others, but they take the opportunity to improve the relationship between Christians and Jews.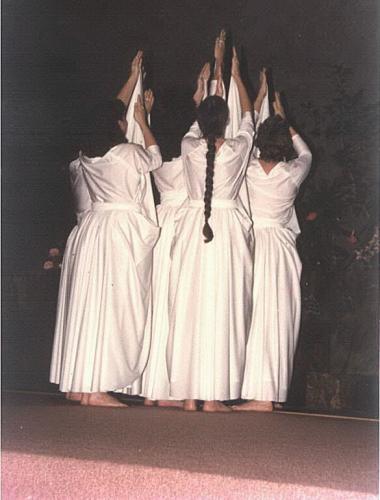 "And now, dear brothers and sisters, one final thing. Fix your thoughts on what is true, and honorable, and right, and pure, and lovely, and admirable. Think about things that are excellent and worthy of praise." (Philippians 4:8 NLT)
The Father loves our worship and if you decide to worship in dance, come to Him spiritually clean and worship the Lord with a pure and good heart.
Return to Praise and Worship Home Page