Worship God Through Prayer
Another form of worship is prayer
What is prayer? Prayer is communicating with the Godhead; God the Father, God the Son and God the Holy Spirit. Prayer is having a loving relationship with the Creator of the heavens and the earth. Prayer is talking to God. It's as simple as that.
Some people believe that prayer is complicated. How do I pray? What should I say? Prayer is not difficult. Think of prayer as if you're speaking with your best friend. God wants us to communicate with Him. He loves interacting with us. He loves for us to include Him in every part of our lives.
It's not enough to know about God, to know that He exists. Having a deep and personal relationship with Him makes all the difference in your life. When you are a child of God, He hears your prayers.
You can pray in church, in a group, or by yourself. You can pray anywhere and at anytime. You can pray silently or out loud. Pray in faith and hope. Pray without doubting. Pray with the right motives.
The most important thing is having that special time with the Creator. It's the time you acknowledge His magnificence, confess your sins, give thanks for all His blessings upon your life, and the time to express your love for Him. It's the time you share your concerns, your desires, and your needs in your everyday life.
"Don't worry about anything; instead, pray about everything. Tell God what you need, and thank him for all he has done." (Philippians 4:6 NLT)
Prayer should not be done for show. When alone, go to a private place where there are no distractions and spend quality time with your heavenly Father. Having that one on one time with God is crucial in our daily lives. You can hear His voice through His Word, or through His still small voice.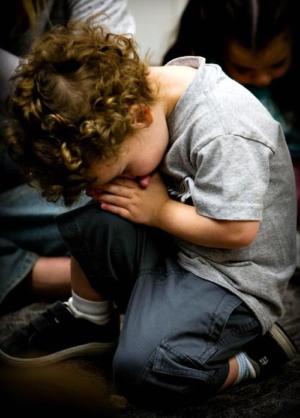 "When you pray, don't be like the hypocrites who love to pray publicly on street corners and in the synagogues where everyone can see them. I tell you the truth, that is all the reward they will ever get. But when you pray, go away by yourself, shut the door behind you, and pray to your Father in private. Then your Father, who sees everything, will reward you." (Matthew 6:5-6 NLT)
Worshiping God through prayer brings us closer to Him. It changes us. It changes our lives. It changes our circumstances. It gives us peace. It gives us joy. It strengthens us. It builds our faith.
"Come close to God, and God will come close to you..." (James 4:8 NLT)
God answers our prayers in three ways; YES..WAIT..or NO..(I've got something better!) It's the waiting that can be the hardest, but God's timing is always perfect.
Sometimes the answer to our prayers is hindered because we are walking in sin. If you feel this is happening to you, ask the Lord to reveal anything in your life that is not pleasing to Him. God will make you aware of your sins so that you may confess them and repent. Then trust that He will answer your prayers.
Jesus constantly prayed when He was here on earth. He would separate himself from his disciples and the crowds and He would go off alone to pray to the Father. He told us how to pray like this:
"Our Father in heaven,
may your name be kept holy.
May your Kingdom come soon.
May your will be done on earth,
as it is in heaven.
Give us today the food we need,
and forgive us our sins,
as we have forgiven those who sin against us.
And don't let us yield to temptation,
but rescue us from the evil one." (Matthew 6:9-13 NLT)
How's Your Prayer Life?
By Bob Gass
...it is time to seek the Lord... Hosea 10:12 NKJV
The place of prayer is where you meet with God to be instructed, corrected, cleansed, loved, built up and prepared to do His will. It can be anywhere, but it must be somewhere! It can be anytime, but it must be a set time. Without prayer, what do you have to draw on? You'll work harder and harder and accomplish less and less because you're operating in your own strength. But after you've prayed you'll struggle less and accomplish more because you're operating in God's strength. If you're spending hours watching television but say you've no time to pray, 'It is time to seek the Lord.' If you're living comfortably with sins that once troubled you, 'It is time to seek the Lord.' If you're speaking words of bitterness towards someone who hurt you, 'It is time to seek the Lord.' If having material things consumes so much of your energy that there's none left for God and your family, 'It is time to seek the Lord.' The New Testament church grew so fast that the apostles found themselves with no time to pray. So they said, '...It is not right...' (Acts 6:2 NCV) That's where you must start! If you've forsaken the place of prayer it will show up in your attitudes and actions. What did the apostles do? They said, '...we will give ourselves continually to prayer...' (Acts 6:4 KJV) And look what happened: '...the Word of God increased; and the number of the disciples multiplied...' (Acts 6:7 KJV) If you've come this far with little prayer, inconsistent prayer, or no prayer, think how far you'll go when you begin to pray.
Pray Until it Happens
We as Christians are commanded to pray. Don't quit praying if it doesn't happen within your schedule. Our Heavenly Father knows best when to answer our prayers.
"One day Jesus told his disciples a story to show that they should always pray and never give up." (Luke 18:1 NLT)
"Keep watch and pray, so that you will not give in to temptation. For the spirit is willing, but the body is weak!" (Matthew 26:41 NLT)
Worship God through your prayers. Be encouraged and pray to your heavenly Father today and every day. He really loves hearing from you!
PLEASE PRAY FOR ISRAEL AND HER PEOPLE.  They have lost many loved ones in this current war. Please pray for the peace of Jerusalem, and for the protection of ISRAEL and its leaders from attacks by all those who want to destroy God's chosen people.
Please pray for the people in the countries that have had destruction from hurricanes, floods, earthquakes, fires, and tornadoes, from famine and disease, and also pray for the people in countries that are at war and in great turmoil.
Please pray for our world leaders, for their protection, and that they will make Godly decisions.
Please pray that this website and others like it will touch more lives and bring more souls into the Kingdom.
("I will bless those who bless you, and whoever curses you I will curse; and all peoples on earth will be blessed through you." Genesis 12:3 NIV)

The following video is an amazing rendition of "Sweet Hour of Prayer". Take a moment, close your eyes and enjoy this beautiful music. Your spirit will be blessed.
Prayers For Salvation Of Loved Ones

Plead The Blood of Jesus Christ

Prayers for Financial Breakthrough

Powerful Declarations - Part 1

Powerful Declarations - Part 2
Do you need prayer? Do you have a prayer request? Go to PRAYER REQUESTS and send us your prayer needs.
Return to Praise and Worship Home Page