Traditional Christian Hymns
"Jesus Loves Me"
JESUS LOVES ME
Author: Anna B. Warner, 1820-1915
Composer: William B, Bradbury, 1816-1868
"And He took them up in His arms, put His hands upon them, and blessed them." Mark 10:16
Without doubt the hymn that has influenced children for Christ more than any other is this simply stated one, written in 1860 by Anna Bartlett Warner. Miss Warner wrote this text in collaboration with her sister Susan as a part of one of the best-selling novels of that day, a novel written by Susan entitled Say and Seal. Today few remember the plot of that novel, which stirred the hearts of many readers. But the simple poem spoken by one of the characters, Mr. Linden, as he comforts Johnny Fax, a dying child, still remains the favorite hymn of children around the world to this day.
Anna and Susan Warner were highly educated and deeply devoted Christian young women who lived all of their lives along the Hudson River in New York, in a lovely but secluded area apart from the busy world. Their home was near the U.S. Military Academy at West Point, and for a number of years these two sisters conducted Sunday School classes for the young cadets. Their home, Good Crag, was willed to the Academy and made into a national shrine. Both sisters were buried with military honors in recognition of their spiritual contributions to the lives of the young military officers.
After the death of their widower father, a well-known New York lawyer. the Warner sisters were left with a meager income and of necessity turned to serious literary writing. Susan became especially noted for several of her works, including a popular book, The Wide, Wide World, considered at that time to be the best seller after Uncle Tam's Cabin. Although not as well-known as Susan for her literary fame, Anna wrote a number of novels under the pseudonym "Amy Lothrop" and published two collections of verse, Hymns of the Church Militant, 1858, and Warfaring Hymns, Original and Translated, 1869.
The popularity of "Jesus Loves Me" soon spread quickly beyond the boundaries of our own land. Numerous stories are told by missionaries of the universal appeal this hymn text has had with children in every culture. It is often one of the first hymns taught to new converts in foreign lands. The hymn has even been appropriated by other religious sects; missionaries have reported that they have heard groups in Buddhist Temples singing, "Yes, Buddha loves me, Yes, Buddha loves me. . ."
Dr. William B. Bradbury, the composer of the music for the text, was one of the important contributors to the development of early gospel hymnody in this country. He was born in York, Maine, on October 6, 1816. As a young man he moved to Boston, Massachusetts, where he became associated with Lowell Mason, often called the father of American public school and church music. Bradbury served as choir director and organist in several large Baptist churches in the East, where he became especially noted for his work with children. Among the highlights of his career were his annual Musical Festivals, where more than one thousand children would gather, all dressed alike. and sing many of his own compositions. Soon Bradbury gave himself exclusively to the teaching, writing and publishing of a great volume of music. From 1841 until his death in 1868, he was involved with the publishing of fifty-nine collections of sacred and secular music. Bradbury composed the music for "Jesus Loves Me" in 1861 especially for Anna Warner's text and personally added the chorus to the four stanzas. It appeared in its present form in 1862 in his hymnal publication, The Golden Shower.
Other hymns by William B. Bradbury include "He Leadeth Me" (No. 28), "Just As I Am" (No. 52), "Depth of Mercy" (101 More Hymn Stories, No. 20), "Even Me" (ibid., N0. 23), "Sweet Hour of Prayer" (ibid., N0. 82), and "The Solid Rock" (ibid., N0. 87).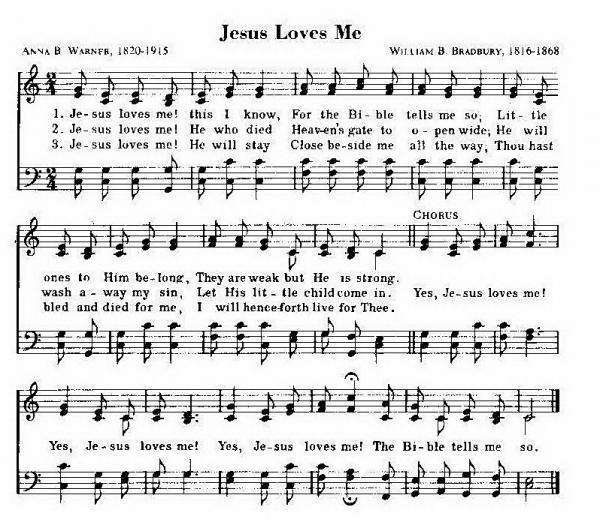 Taken from 101 Hymn Stories © Copyright 1982 by Kenneth W. Osbeck. Published by Kregel Publications, Grand Rapids, MI. Used by permission of the publisher. All rights reserved.
Return To Traditional Christian Hymns
Return to Praise and Worship Home Page