Piercing of His hands and feet
Psalm 22:16
"For dogs have surrounded Me;
The congregation of the wicked has enclosed Me.
They pierced My hands and My feet;"
Matthew 27:31
"And when they had mocked Him, they took the robe off Him, put His own clothes on Him, and led Him away to be crucified."
Crucified with thieves
Isaiah 53:12
"Therefore I will divide Him a portion with the great, And He shall divide the spoil with the strong,
Because He poured out His soul unto death,
And He was numbered with the transgressors,
And He bore the sin of many,
And made intercession for the transgressors."
Mark 15:27–28
"With Him they also crucified two robbers, one on His right and the other on His left. So the Scripture was fulfilled which says, 'And He was numbered with the transgressors'."
Prayed for His persecutors
Isaiah 53:12
"And He was numbered with the transgressors,
And He bore the sin of many,
And made intercession for the transgressors."
Psalms 109:4
"In return for my love they act as my accusers; but I am in prayer."
Luke 23:34
"But Jesus was saying, 'Father, forgive them; for they do not know what they are doing.' And they cast lots, dividing up His garments among themselves."
His side was pierced
Zechariah 12:10
"And I will pour out on the house of David and the inhabitants of Jerusalem a spirit of grace and supplication. They will look on me, the one they have pierced, and they will mourn for him as one mourns for an only child, and grieve bitterly for him as one grieves for a firstborn son."
John 19:34
"But one of the soldiers pierced His side with a spear, and immediately blood and water came out."
Given gall and vinegar to drink
Psalm 69:21
"They also gave me gall for my food, and for my thirst they gave me vinegar to drink."
John 19:28-29
"After this, Jesus, knowing that all things were now accomplished, that the Scripture might be fulfilled, said, 'I thirst!' Now a vessel full of sour wine was sitting there; and they filled a sponge with sour wine, put it on hyssop, and put it to His mouth. So when Jesus had received the sour wine, He said, 'It is finished!' And bowing His head, He gave up His spirit."
Suffered no broken bones
Psalm 34:20
"He guards all his bones; not one of them is broken."
John 19:32-33, 36
"Then the soldiers came and broke the legs of the first and of the other who was crucified with Him. But when they came to Jesus and saw that He was already dead, they did not break His legs. For these things were done that the Scripture should be fulfilled, 'Not one of His bones shall be broken'."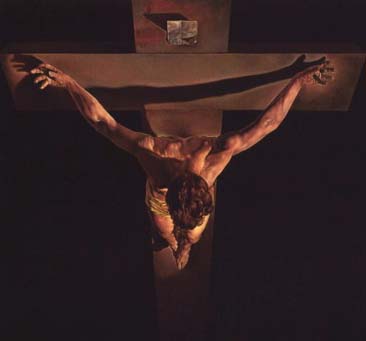 Lots cast for his garments
Psalm 22:18
"They divide my garments among them and cast lots for my clothing."
John 19:23-24
"Then the soldiers, when they had crucified Jesus, took His garments and made four parts, to each soldier a part, and also the tunic. Now the tunic was without seam, woven from the top in one piece. They said therefore among themselves, 'Let us not tear it, but cast lots for it, whose it shall be,' that the Scripture might be fulfilled which says:
They divided My garments among them,And for My clothing they cast lots.Therefore the soldiers did these things."
Buried in a rich man's tomb
Isaiah 53:9
"And they made His grave with the wicked
But with the rich at His death,
Because He had done no violence,
Nor was any deceit in His mouth."
Matthew 27:57-60
"Now when evening had come, there came a rich man from Arimathea, named Joseph, who himself had also become a disciple of Jesus. This man went to Pilate and asked for the body of Jesus. Then Pilate commanded the body to be given to him. When Joseph had taken the body, he wrapped it in a clean linen cloth, and laid it in his new tomb which he had hewn out of the rock; and he rolled a large stone against the door of the tomb, and departed."
Rose from the dead
Psalm 16:10
"For You will not leave my soul in Sheol,
Nor will You allow Your Holy One to see corruption.
You will show me the path of life;
In Your presence is fullness of joy;
At Your right hand are pleasures forevermore."
Isaiah 53:8, 11
"By oppression and judgment he was taken away. And who can speak of his descendants? For he was cut off from the land of the living; for the transgression of my people he was stricken. After the suffering of his soul, he will see the light of life and be satisfied; by his knowledge my righteous servant will justify many, and he will bear their iniquities."
Psalms 30:3
"O LORD, Thou hast brought up my soul from Sheol; Thou hast kept me alive, that I should not go down to the pit."
Psalms 49:15
"But God will redeem my soul from the power of Sheol; for He will receive me. Selah."
Matthew 28:2, 5-9
"And behold, there was a great earthquake; for an angel of the Lord descended from heaven, and came and rolled back the stone from the door, and sat on it.
But the angel answered and said to the women, 'Do not be afraid, for I know that you seek Jesus who was crucified. He is not here; for He is risen, as He said. Come, see the place where the Lord lay. And go quickly and tell His disciples that He is risen from the dead, and indeed He is going before you into Galilee; there you will see Him. Behold, I have told you.'
And as they went to tell His disciples, behold, Jesus met them, saying, 'Rejoice!' So they came and held Him by the feet and worshiped Him."
Mark 16:6-7
"And he said to them, 'Do not be amazed; you are looking for Jesus the Nazarene, who has been crucified. He has risen; He is not here; behold, here is the place where they laid Him. But go, tell His disciples and Peter, `He is going before you into Galilee; there you will see Him, just as He said to you'."
Acts 2:31
"He, foreseeing this, spoke concerning the resurrection of the Christ, that His soul was not left in Hades, nor did His flesh see corruption."
Ascended into Heaven and sits on the right hand of the Father
Psalm 68:18
"You have ascended on high,
You have led captivity captive;
You have received gifts among men,
Even from the rebellious,
That the LORD God might dwell there."
Psalms 110:1
"The Lord says to my Lord: 'Sit at My right hand, until I make Thine enemies a footstool for Thy feet'."
1 Corinthians 15:4
"And that He was buried, and that He was raised on the third day according to the Scriptures."
Ephesians 4:8
"Therefore it says, "When He ascended on high, He led captive a host of captives, And He gave gifts to men."
Acts 1:9
"Now when He had spoken these things, while they watched, He was taken up, and a cloud received Him out of their sight."
(All scriptures on this page are from the NKJ version.)
These are just some of the many prophecies fulfilled by Jesus Christ. I think it appropriate to finish with the full chapters of Isaiah 53 and Psalm 22. By reading them all the way through without interruption, the awesomeness of God and the powerful truth of the scriptures pierce deeply into our hearts. Isaiah 53 & Psalm 22